Use Facebook's Ad Updates to Dominate Holiday Shopping
Published: November 20, 2013
Author: Molly Shotwell
Today's post is by Meghan Prober, Director of Marketing at Ampush.
The winter holidays loom larger than ever this year for Facebook advertisers. The shopping season is the shortest it's been since 2002, consumers are savvier comparison shoppers through the use of mobile apps and social media, and trusted online reviews and peer recommendations are more powerful than ever. Take advantage of three ad capabilities new since the 2012 holiday season on Facebook to rise above the crowd: Mobile App Ads, Consistent Ad Units, and Facebook Exchange (FBX).


Let's start with Mobile App Ads, which have evolved from a means to drive app installs to powerful tools for engagement and conversion through the use of eight unique vertical CTAs for every app. Deep-links within the app direct users to specific, time sensitive, content, allowing for last-minute holiday specials, sales, and incentives. Each link comes with customizable buttons like "Shop Now" to galvanize users and send them to the right product at the right time. Mobile app ads are the perfect way to engage shoppers on the go with deals that drive conversions.
Facebook advertising has slimmed down this holiday season with consistent ad units. Simplified ad types first hit News Feeds last summer, but updates regarding image size, desktop and mobile platform consistency, and aspect ratio make Facebook's ad unit updates a real gift for brands this holiday season. It's now easier than ever to streamline a campaign with a single arresting image and accompanying text instead of designing several templates for every market.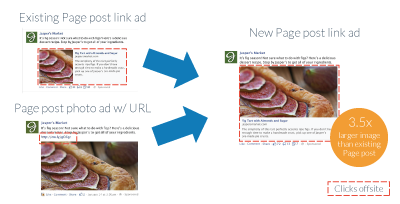 Images have been given greater priority, with an emphasis on simplicity in page post link ads through the use of one image aspect ratio – 1.9:1 – for mobile and desktop, as well as a 3.5X larger image, featuring truncated text after 90 characters. Case in point: Page post link ads with photos had a 37% higher CTR than those without.
Facebook Exchange (FBX) is the final game changer for the 2013 holiday shopping season. 91% of people have gone into a store because of an online experience and, according to ReTargeter, only 2% of shoppers make a purchase during their first visit to an online vendor. That's a massive market that quickly decays. The best way to capture and convert an interested but eroding audience is to bring them potential customers back to your website using retargeting. FBX brings them back.


Retargeting works through the use of tracking cookies embedded in browsers. A user browses a website, and the website drops a cookie (a simple embedded user ID#) on her server, tracking the pages she visited and the items she viewed. When that user logs onto Facebook, the advertiser has the opportunity to provide ads on her News Feed and right-hand side that retarget the user – in a timely manner – back to the website where she previously showed interest. As of December 2012, FBX already accounted for 45% of clicks on retargeted web ads globally, and it was still just in beta!
The shortened holiday shopping season, increased use of mobile, and higher expectations of shoppers are all reasons to turn to Facebook's new and improved ad tools to drive CTRs and conversions this holiday season. Happy bargain hunting!

-Meghan Prober is Director of Marketing at Ampush, a technology company that helps advertisers achieve measurable business objectives on mobile-first native platforms such as Facebook and Twitter. Prior to Ampush, Meghan was at QuinStreet and the March of Dimes. Meghan graduated cum laude from Harvard University.