Increase the engagement of your Facebook posts
Published: July 2, 2013
Author: Daniel Ho
Earlier this year, Optimal performed an analysis on 8,500 of the world's top brands on Facebook and found that 75% of a brand's post-level engagement occurs during the first 3 hours of posting. Almost half of a post's engagement occurs right within the first hour:


Given this lifecycle of a typical Facebook post, maximizing reach and engagement and extending the lifecycle as much as possible is incredibly important. With Facebook's update to its Page Insights, we offer the following tips for brands and marketers to take full advantage their produced content and to increase engagement:
Create the Right Content and Deliver It Effectively
The power of a strong creative with an enticing copy and a direct message should not be underestimated, especially when a brand is promoting its posts on the highly visual canvas offered by Page Post Ads in the News Feed. Numerous tactics for generating engagement include asking questions to fans in an effort to create conversations and posting short messages with simple images in order to create easily digestible content. However, the best way to generate engagement on Facebook is by listening to your audience and creating content that is relevant to them. Facebook's new Page Insights will enable marketers to do this – they can learn from their past posts and measure the effects of certain types of content. For example, we may discover a certain post resonates more with women than men: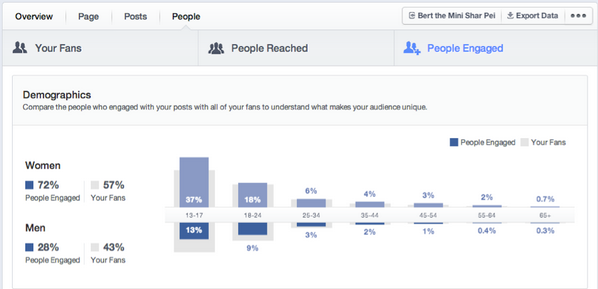 Before, marketers could only see the high-level demographic breakdown of their fans, but now they can discern the specific demographics of people who are engaging with their content (breakdown by likes, comments, shares, photo views, link clicks, and other clicks). This is exciting because at Optimal, our Analytics tools have similarly been helping marketers learn more about their fans and engagers at a granular and in-depth manner, enabling them to build more engaging content.
As marketers discern the demographics of audiences most likely to engage with certain content, they can run Promoted Posts to continue generating engagement from existing fans. Notably, they can also target ads to those audiences that have yet to become fans. Although it is still advisable to run a variation of ads with different targeting selections, there should be measurably less guesswork in discovering which demographics will respond best to certain content, saving marketers effort, time, and money.
Understand When to Promote Certain Content
Paid promotion can go a long way when marketers want to extend the lifecycle and virality of their content. Promoting posts can provide lift to content as it wanes. Although the effect on engagement varies on a case-by-case basis (depending on the type of content, the content itself, targeting, and when the content is being promoted), consistent testing of promoted posts can reveal unique engagement patterns for certain types of content.
With this backlog of information, marketers will be better equipped to recognize appropriate instances for promoting a post. Insights like this can be determined by using tools that track engagement velocity (engagement over time). Optimal Analytics' Facebook Post Velocity can be seen below, with the number of 'likes, comments, and shares per hour' on the Y-axis and the 'minutes after posting' on the X-axis. The following shows a global electronics company promoting a post right after the 3rd hour mark:


In the case above, the company decided to promote a post because all metrics for engagement – comments, likes, shares – were steadily decreasing to 0 as the post approached its 3rd hour. Testing to see what type of impact they could have by targeting the content to several demographics based on prior research, the company gained invaluable insight as they saw a sizable uptick in all engagement metrics that continued to soar impressively even into the 6th hour.
In fact, given this decision to promote the post, engagement levels eventually ended up higher than they had been when the company first published it! Sometimes a well-calibrated paid promotion may return huge dividends and revive content that otherwise would have faded quickly.
Another example of a company closely tracking and promoting its posts at select times comes from a well-known worldwide beverage brand. Specifically, the chart below shows one of the brand's posts waning in engagement as it neared the very first hour:


Nearing that 1st hour mark, the company had decided to provide a sizable lift that led to moderate success. They then provided another but smaller lift in the 3rd hour, which extended engagement even into the 5th hour (which obviously is better than no engagement!).
Beyond incorporating well-known tactics (i.e. asking questions within Page Posts) into a content strategy, marketers must also test content to see which types are generally the best-performing and discern towards whom each type of content should be targeted. By doing so, brands will be able to continually gain insight into their fans and consequently, be better equipped to build ever-engaging content for their audiences.
And just as important, marketers should test promoting content at various stages of a post's lifecycle – knowing when to promote and lengthen certain content is a pivotal step in maximizing engagement and awareness.
Individuals and SMBs running can manually track engagement and select specific posts to promote. But for bigger brands seeking a more efficient and automated solution, there are options like Optimal's News Feed Promoter, which is capable of identifying the best-performing content and dynamically promoting it to a brand's most engaged and loyal audience. If you're interested in viewing an example of how Optimal depicts the velocity and performance of a brand's Facebook and Twitter content, visit here (click on the "Content" Tab near the top).