Get up to speed on Facebook's new ad types
Published: May 17, 2013
Author: Andrew Foxwell
These days, if you take a long weekend, you've probably missed a Facebook release by the time you get back to your desk.
Facebook's been releasing or repositioning ad types pretty constantly over the last few months; they are also updating the look and feel of ads without much notice, which is a good thing for advertisers because they usually look better after they've been updated.
In case you missed anything, here's a refresher to get you up to speed on Facebook ad types. (We'll skip FBX for now; there's a ton of info out there devoted specifically  to FBX.)
We've got new Sponsored Story Likes
These are still great for acquiring fans, and they're not a visual afterthought anymore.
Here's what they used to look like:


Here's what they look like now, first on mobile and then on desktop:

Marketplace ads appear to be phasing out
Look at the right rail; you've seen (and probably ignored) these ads, which are meant for fan acquisition:


Those marketplace ads are soon to have bigger, shinier counterparts now, right in the coveted newsfeed: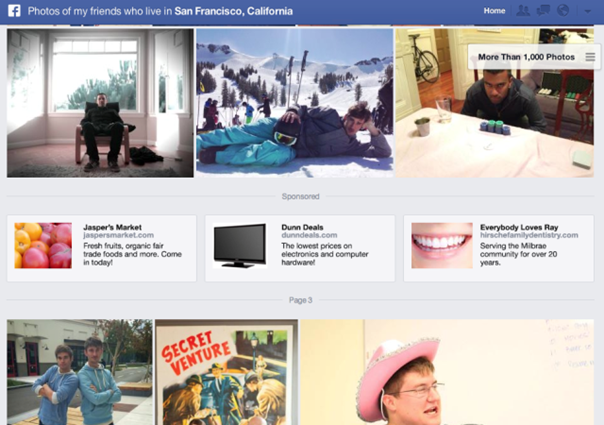 Much harder to ignore and more room for visual appeal, right? It makes me think marketplace ads might be on the way out.
Dark is the new black
…by which I mean that "dark" posts, which Facebook calls "unpublished page posts," are one of the best new tools in a Facebook advertiser's box.
Unpublished posts come from your brand page and are visible only on specifically targeted users' pages; they allow for multiple variations of testing and audience segmentation with a great-looking ad unit.
So, to sum up: good engagement, good placement, and can be optimized for specific actions (hello, direct response) on your website.
They come in varieties, too:
Unpublished photo page posts (desktop and mobile):


Unpublished link posts (desktop and mobile):


And, like I said, there's the whole world of FBX to consider. (This is a good reminder on best FBX practices, and here's a testament to the results a good FBX campaign can drive.)
One last thing: if you really want to get into the nitty-gritty of Facebook advertising, join me, Dennis Yu of BlitzMetrics, and Christina Park of Triggit for a free webinar on Next-Gen Facebook advertising, May 23 at 11 a.m. PT. Bring questions!